Commercial Painting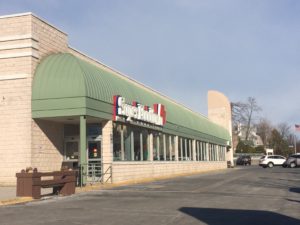 Our Commercial Division handles all types of projects. We offer a full compliment of services geared towards these jobs. Deadlines, Nights and non-standard hours are what we know. Whether it's Ground Up, Industrial, Supermarket, Office, Institutional, Interior or Exterior, our people understand the special requirements of these types of jobs. Whether it is a wall or refinishing office furniture our employees are well trained.
New work: Office fit ups, Ground up, Churches, Institutional and Warehouse
Exterior finishes: Including (Elastomerics)
Commercial painting New Jersey
Finding a great commercial painting contractor is important. In fact, not good but better than good, or better than great is what anyone looks for when outsourcing work to be done. A contractor's work has to be stellar, not nice but extra-nice and very professional.
It is a big responsibility working with commercial businesses. Businesses, more so than homes,  have unique requirements based on schedule, working hours and a return to normal. Companies depend on image and realize their offices, warehouses, and all building areas outside and in, need to be well maintained. Not only for the obvious reasons of normal maintenance, but for the look and brand companies rely on professionals without question.
Its in the finishing, the paint quality and time taken that determines the cost. A competitive price certainly never assures quality. Using inferior products is never a smart idea. Inferior products generally cost more in the end because of the need to repaint sooner than later.
The searching process looking for expert, reliable and the best commercial painting contractor is not an easy task. Common searching includes, word-of-mouth or references from friends or associates, direct references, ads, online searching etc.
Search Reliable, Expert and Familiar Contractors
Search via friends and associates.  It is always the best strategy, to find reliable, expert and familiar commercial painting contractors. You should also search online with the name of trusted, well known and expert commercial painting contractors. Their online content and references will help you familiarize yourself with their company, or helpline links can be used for details.
Qualities of Commercial Painting Contractor
A quality and trusted painting contractor with polite behavior is necessary. You want your experience to be pleasant, so demeanor is important.
Contractor should be experienced and have all required painting expertise.
Check the contractor's background.
Visit some sights and buildings which have been completed by this contractor.
View the certificates, diploma's and reviews to help prove the contractor's track record
Time Period and Cost
Before making a final contract with painting contractor, ask about the total time period and costs. Sometimes, time periods or estimated time of completion will go into overtime and out of control which increases the cost of total project.  Following of such points can save you time and cost as well as meeting the highest quality outcome.